Events and parties are very important, especially due to the busy professional lives we live. However, making an event outstanding and memorable is very important for its success!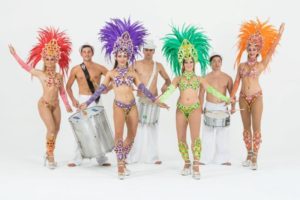 Performances of dance and music featuring 'A Taste Of Brazil' can add to the glamour of your event. For years, Brazilian dancers have been famous across the globe, due to the sheer entertainment they provide and the festive atmosphere they create. But with globalisation at its peak, you can now enjoy Brazilian entertainment in Melbourne or any other location in Australia.
From Samba, Lambada all the way to Capoeira, 'A Taste Of Brazil' masters many forms of Brazilian dance and acrobatics to suit various customer requirements. Allow us to bring the carnival to your event!
Wedding Entertainment – wanting to spice up your wedding with something to make it stand out and be the talk of the town among your guests why not book one of our themed shows. Whether it is a Brazilian show or a bollywood show. We promise it will definitely be a night you will remember.
Corporate Entertainment – Providing High and World class entertainment to Corporate Companies such as MYOB, Gymnastics Australia, Crown and many more.
Corporate Workshops – With the sounds of the drums direct from the streets of Rio de Janeiro 'A Taste Of Brazil' can bring them directly to your office teaching the basic rhythms of this infectious energy of Samba, assisting with team building. Whether it be at an event, conference or even leadership programs that will bring your teams into working together to produce the sounds of the carnival together. It also assists reducing stress, create motivation and as a result will increase productivity at your office.