AURORA KURTH   Master of Ceremonies & Guest Chanteuse
"Aurora is a natural comedian with huge stage presence and a singing voice that could charm birds from the trees".    The Age
A highly sought after entertainer, renowned for her sublime vocals, cheeky comedy and sharp wit, Aurora brings her inimitable style and verve to every event. With a career in the performing arts spanning over two decades, the critically acclaimed singer, actor, comedienne and Mistress of Ceremonies has captivated audiences worldwide.
A master of understatement and elegance, she beguiles with the efficacy of the succubi!
Be it intimate cabaret or gala ball, she has the mastery and finesse to leave you mesmerized by her charms, assuring you a unique and unforgettable experience!
Need an MC for your next event?
Aurora is an entertainer, a raconteur, a comic and a hell of a singer! Along with a healthy dose of audience interaction, she combines impressive vocals and cheeky comedy to create a hilarious high-class show. An assured and professional MC, she is guaranteed to keep audiences engaged and longing for more.
"Aurora  is one of those rare MC's that can actually be a show in their own right. The time between acts often becomes more enjoyable just to watch her… Classy, funny, feminine and formidable. When she sings, boy can she steal an audience!"
Alex Schoeffel. Events & Marketing Manager. Red Bennies.
"Aurora  would have to be one of the most outstanding vocal & comedy talents I have ever come across in
my 28 years of running Uptempo Entertainment International.
Her sheer presence is enough to put a smile on anyone's face!  I am extremely proud to have Aurora as anchorwoman &mistress of ceremonies for our production 'Simply Burlesque'.
This lady is absolute 'Dynamite!'
Craig Symons Managing Director Uptempo Entertainment International.
Choose from one of the following characters or ask Aurora to create a persona to fit your theme:
Originating from Dubbo, NSW, CheLean has been in show biz for 20 years – she can belt out a tune and keep a crowd laughing for hours on end!
Originating from LA, Jane is frozen in 1984. High energy singing aerobics instructor who loves to sing 80's rock anthems and party all night long!
FIFI from West End London, she has stars in her eyes and is traveling the world in the hope of being 'discovered'. A sure crowd pleaser!
FELINA a fiery and seductive fortune-telling songstress all the way from El Paso, Mexico.
LUCILLE straight from an Elvis pool party to your event – Lucille brings the tropics to you!
 TONY "Sure Shot" WINKLER a jazz crooner. It's the year 1923 and deep in the heart of Chicago, we find Toni's speakeasy, where they don't let a little thing like the prohibition bring them down!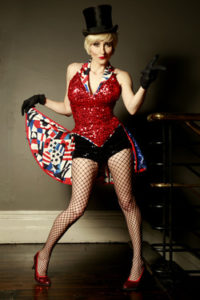 HOXIE TUCKER this sassy Texan knows how to whip a crowd into shape!
A little belter all the way from the big top.